Why Not Plan a cruise for your next family reunion!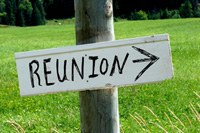 Why consider a family reunion cruise? A number of reasons, it seems. First of all, families have a great time sailing together on a luxurious ship, as they relax and enjoy each other's company as well as the shipboard amenities such as musical theater productions, casino gaming, putting greens and virtual golf, swimming, dining, dancing, and of course, sightseeing and shopping in port. In fact, cruise lines have made a special effort to design activities and recreation areas to suit every age group and taste, from kids on up to grandparents.
One of the added benefits of a cruise is that no one has to do any work! All of the meal planning and preparation, the bed-making, the room cleaning, the entertainment, the babysitting, etc is taken care of for you by the ship's efficient and professional staff. All you have to do is enjoy and try not to eat too much!
Panda Travel specializes in family and group cruises. We can help you design a cruise and/or land package to suit your family or group's particular desires and needs.
Many people enjoy knowing and learning about their ethnic heritage, and plan to visit their ancestral home "someday." Why wait any longer? Whether your ancestors hail from Europe, the Mediterranean, Africa, Australia, the Orient-whatever your roots, there's a cruise ship that will take you there to get acquainted with the "auld sod".
You can begin by researching your ancestry. Many resources are available to help you, including genealogy programs for the home computer, books on the subject from the library, family records, even older relatives can help you pinpoint ports of call that would have special meaning to your family. Once you have some ideas about where you'd like to sail, Panda Travel can help you choose the right cruise line and ship for your cruise.
Or perhaps your and your family would simply like a "getaway" cruise, like a visit to the Mexican Riviera, the Caribbean, Hawaii or Alaska. Cruise lines are developing many new homeland cruise itineraries also, departing tolfrom US ports and involving little or no airfare. There are also trips along America's rivers, on a barge or steamship. New ships and adventures are being offered regularly, as the cruising industry continues to expand.
Many cruise lines offer group specials that are attractively and affordably priced. Another benefit to the cruise is the "all-inclusive" approach, where almost everything is included in one price. This helps families budget for vacations.
Another idea for a family cruise centers around a wedding or vows renewal. Several ships now offer the option of getting married on board in a special wedding chapel, and take care of the reception for you. A family reunion cruise might be a perfect time to strengthen the family ties with a moving ceremony.
Princess Cruises, as well as Royal Caribbean, Celebrity and Norwegian Cruise Lines have many cruises which would be ideal for a family reunion. Summer trips might include a 7-day Alaska cruise . Spring break and other holidays offer a chance to experience the Mexican Riviera or the Caribbean. If you'd like to venture farther afield, ask for a European or Exotics itinerary. Perhaps a Hawaii,Tahiti or AustraliaINew Zealand cruise would fit the bill.
It's essential to plan ahead, 12-18 months, when getting together a family group. Many people will need to put in for vacation time, schedule school classes, etc. Call us now to ask about your family cruise. We can assist you with passports, and coordinate travel for small or large groups, even if you have passengers departing from different cities. We'll take care of all the details, so you don't have to!